I was born June 3. 1952 in Luckenwalde. It's a small industrial – town ca 60 km south of Berlin. My parent's are very musical people, yeah – i guess that also makes me to one. Dispite the fact, that my daddy took lesson's on the violin ones or twice, did he never have an musical education. Our house was filled with music. We sang often. That had the advantage that all kind of music from the so called "Evergreen's" to Opera – pieces got hammered into me. Yeah, I loved it. Pretty soon even I could call a big part of those tunes my own and remembered each and everyone of it.
My father's brother was the proud owner of an reel to reel tape-recorder made in the (yeah,-where else ?) USSR. It was running on tubes. It was a big freak'n deal in our suburban town , because it was hard to come by stuff like that and none of us had ever seen a "reel to reel" up close. Thanx to him I've got my very first performance captured on tape. "du bist die welt für mich" ("you are the world to me") Tauber/Tauber, — my first breakthrough !!!

I was five year's old at the time and if a party was up, they asked me to sing. I was already celebrated like a little star. One year later my parent's got me a piano and gave me what they never had, —  an education in music.
At the age of 15, I was head'n to Berlin to visit the "Special-School for music" (so the plan) and afterwards to study at the conservatory of music "Hanns Eisler". The big city, the big puberty-pimpels and my growing curiosity in "beat" and soul-music made me lose my interest on evergreen's and opera-tunes (so called "serious music"). Bad enough,-fellow's of my boarding-school and I formed our first band in 1968.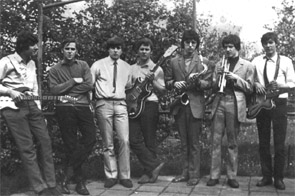 After finishing the 10th grade I went back to my suburban hometown. I became a apprentice to absolve my final examination as toolmaker. There where a lot of band's in my hometown Luckenwalde. I dreamed of playing in one of the best ones called "The Raven". I was waiting for my chance – and one day, sure enough, the keyboarder of the "Raven" did quit the band, – reason: "marriage" ! I went for it rideaway. PS: Bad luck for him, one week later he changed his mind ! For me ?- A dream came true.-On the road, Every weekend another small town, – every weekend playin' our beat.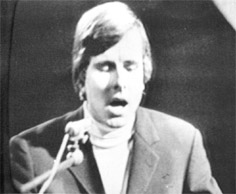 1970 my first TV-performance. Show-host Heinz Quermann leading through the program called: talentsearch "Herzklopfen kostenlos" ("Heartbeat free of charge").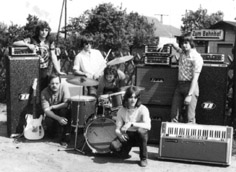 1972   "The Raven" broke up and a band called "Impress" was born. The drummer of that band was the today's drummer of the "Puhdy's" Klaus Scharfschwerdt. 1974 After service (armeetime) I joined  a band called "Progressiv".("the telefon") Klammer/Kirchmann.
That was my real first professional band.- No day or side-job's. I've got a lisence from the earlyer day's so called "music school Berlin Friedrichshain" (PS: in the GDR you had to have a license to be a musician). It got handed out to you after absolving the specialclass-grade. An oasis in the landscape of education made in GDR. No political-bullshit, just music. — WOW !!
By the way, that school got closed a couple of year's before the "iron curtain" came down.
At that scool almost all musicians hang around (had to hang around on government-order) just to get ready to entertain the citizen of the GDR with a "melody of joy" one day.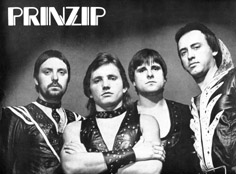 That's where I got to meet the leader of the band "Prinzip". Music-Style:hard n' heavy !
1977 I joined the band. That band was pretty populare in the GDR (well,- at least at that time).
1978 First recording. LP called "Feuerrock" with that single-hit ("wide is the street") Demmel/Kirchmann – Chartbreaker of the "Radio-Hitparade".
1980 I decided to work on my solo-career. I got an offer from (in that time) the "cream de la cream" Veronika Fischer & 4PS and so, my solo-career got flushed down the toilet. Their songwriter Franz Bartsch defected to westberlin, so — I took over. We played two tour's. Suddenly the head of the band Veronika Fischer also left our country. ("Zwei Groschen Lied") Demmler/Bartsch .
All what's left,– four pretty kick ass musician's. J.Ehle g, F.Hille dr, J.Reznicek and me.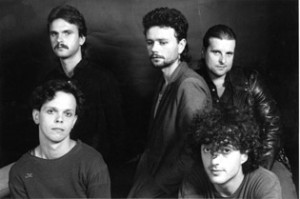 Singer of the band A.Herzberg, former  "Gaukler" joined , so we had a new Band cookin' — called "Pankow". That was 1981. Herzberg's brother Wolfgang wrote a theater-piece named "Paule Panke". The story: A day of a youngster who was an apprentice in East-Germany. We wrote song's and put everything in scene. Like a rock-theater piece. Media (TV & Radio) of cause said "NO". Reason: "youngsters,- criticizing our government,-don't exist in the real world of our beloved country". The first so fired up press got put back on the government-leash. That's it: Toooo much criticism. Life tour was allowed. Everyone mellowed out after a while. The first Life-show of Pankow came out in the year 1982. Also a LP (CD) recording. Song's like ("nach der Arbeit") ("after work") are on it.
Parallel to Pankow I still was busy producing a few song's at the "rundfunk der DDR". It was the year 82/83 and called ("Kinderspiel") Karma/Kirchmann ("Childsplay").It became the # 38 of the GDR-Chartlist.
1987: I also got buissy to work as an actor in the stage-piece "Paule Panke". I played an operetta-buffo.
After 10 years sold out theater's and crowded houses (Theater Schwedt), it was decided to take it off the billboard.
One of the best "Pankow" CD's was "Aufruhr in den Augen" ("Uproar in your eyes"). Song's like ("Langeweile") Herzberg/Kirchmann are on it too. That song described exactly the feeling of the people in that country-and (if you don't mind me saying so) maybe, it helped a little to get the political rock rollin'."the same country-seen too long, the same language heard too often, waited too long, hoped too much, too often bowed down to the old men"
Officially glasnost & perestroika didn't exist in the GDR. Some of the so called not government-loyal artist's didn't care much about it, eventhough their work might be no longer allowed (censorship).
One of them: Gerd Hof. He wrote the theater-piece 1989 called "Nina, Nina tam Kartina" (motto: Russian Hollywood"). It was performed at the "Theater at Altenburg". Also that title-song ("Nina, Nina tam Kartina") (russian scool-book) Buhss/Kirchmann.
After the german reunion i still remained in the band "Pankow". We tracked two more CD's.
1995 I wrote the music to a film called "Wer anhält stirbt" Olaf Kaiser/Alexander Ris ("Who stopp's,die's") with Corinna Harfouch.
1996: I was quitting "Pankow" and left.
After leaving the band i started to set my mind on that beautifull cycle"Sun and Time" by Mikis Theodorakis. "Sun and Time" was created by him during prisontime. The greek junta sentenced him to jail on a "pilitical matter". A big event for me was to join the Ensemble of Mikis Theodorakis in 1990. I had the wish to sing and perform Theodorakis-songs, but i wanted to do it with my word's and my kind of arrangement's. "The song's are (like Theodorakis said himself) each and everyone of them a special part of a whole piece". That moment when he was listening to my recording's, he was very pleased. Filmmaker Klaus Salge did a documentary and captured that show 1998 at the Berliner Passionskirche.(church). That footage was broadcasted on German/French Television-Channel Arte "Music Planet". Theodorakis himself explained how each single song got created. Quote Theodorakis: "Kirchmann understood how to transform  the desperate hopelessness and pain into my song's". And that again pleased me. That life-concert just appeared due courtesy of the greek firm "Lyra".Theodorakis and I also recorded a bonus-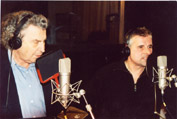 track.2002 / my musicianfriend's Jannis & Thanassis Zotos, Christian Sade, Ullrich Maiß and i went back to track a new studio-album of "sun and time" named ("Down on the earth") Theodorakis/Kirchmann).
Dec./96 – Sept./02. During that time i also worked with the native Berlin/Kreuzberg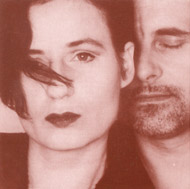 chanson-singer Annette Berr. Together we recorded an Live and an studioalbum. ("Helene B") Berr/Kirchmann.
1998: I wrote the mainpart of songs to a movie called "Abendland" by Fred Kelemen. Even a small acting-roll was offered to me. ("Unten am Fluß") Kirchmann/Kirchmann ("down by the river").
.
1999 i got to write the musictheme to a movie called "Tolle Lage" by Sören Voigt. Singer Michi Fanselow is playing an important character in it. ("Mauerblümchen") Kirchmann/Kirchmann ("Wallflower").
2001 i recieved an offer to compose the music to the film "Drei Stern Rot" by Olaf Kaiser ("three star's in red") and the short-movie "calls" by Sören Voigt. 2002 i contributed part of the music for the film "Identity kills" also by Sören Voigt.
If you'd like to know what i'm doin' in the moment, -please snoop around in the section "NEWS". Thanx.